Georgia to develop a new action plan in response to Russian threat
By Ana Robakidze
Monday, October 20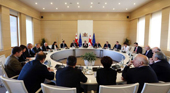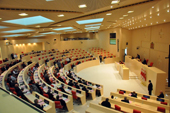 The Georgian government announced it will develop a unified action plan in response to the Kremlin-proposed treaty on "Alliance and Integration" between Russia and Georgia's breakaway Abkhazia region. The decision was announced at the meeting of the Security and Crisis Management Council, led by Georgian Prime Minister Irakli Garibashvili.
The Moscow proposed treaty offers setting-up a joint Russian-Abkhaz defense and law-enforcement system and Abkhazia's further integration into Russia's economic and social system. Georgian government, as well as several Abkhazian de-facto officials believes the treaty will lead to turning the region into a part of the Russian Federation.
According to the PM's order, each state institution will have to elaborate its own action plan on future foreign policy.
According to Mindia Janelidze, the Secretary of Security and Crisis Management Council, every international mechanism will be applied for the protection of Georgian interests, sovereignty and territorial integrity. Every single branch of the government will be involved in the implementation of the action plan. Janelidze expressed his hope that the consolidated approach towards the case will have a good outcome.
Meanwhile Georgian Parliament adopted a statement condemning Russia's attempt to annex Abkhazia.
"The treaty will give rise to a new wave of violations of international legal norms, create an additional threat to regional stability, and significantly damage the process of normalization of Russian-Georgian relations," the statement reads. It also calls on the international community to further intensify its efforts for the protection of international order and legal norms through using all the possible levers.
Georgian lawmakers also say in the statement that Georgia's European and Euro-Atlantic integration will be a full guarantee to the protection of the Abkhaz people's interests.
The Parliament-approved Georgian Dream-initiated draft of the statement was not supported by the United National Movement (UNM) opposition party. UNM members prepared their own draft, which offered withdrawal from informal bilateral talks with Russia.
The new Russian threat will be discussed by President Giorgi Margvelashvili and the National Security Council. The president and the council will try to plan a coordinated action for the country's defence on October 28.