Fitch changes Georgia's outlook from "Stable" to "Positive"
Monday, October 20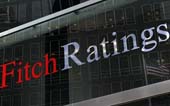 Georgian financial officials are celebrating a positive affirmation by Fitch Ratings, a global ratings agency.
Fitch Ratings affirmed Georgia's credit ratings at "BB-", and advanced the outlook from "Stable" to "Positive".
Georgia's Economy Ministry believed this positive change was based on several factors:
• Georgia firmly continued its economic and structural reforms within its cooperation with the International Monetary Fund;
• Georgia had a comfortable business environment affirmed by the country's eights place in the World Bank's Doing Business rating;
• Georgia had a notable political progress affirmed by recent democratic and transparent elections;
• Georgia had strengthened institutionally, which was recognized by international monitors;
• And Georgia had signed the Association Agreement (AA) with the European Union, which included the Deep and Comprehensive Free Trade Area (DCFTA) agreement.
The Ministry expected the AA and DCFTA deals would have more positive results in the future.
In 2012, an EU-commissioned study said, if implemented and sustained, the DCFTA could increase exports to the EU by 12 percent and imports by 7.5 percent. In the long run, it could boost national income by ˆ292million (705 million GEL).
(agenda.ge)