SOCAR reduces the price oil products in Georgia again
Monday, October 20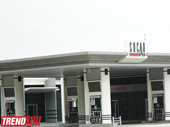 SOCAR Georgia Petroleum Company reduces prices for oil products in Georgia again.
Prices for all types of oil products were reduced starting from October 13 across the entire SOCAR Georgia petroleum network, the company said Oct.17.
Since October 17, the prices were again reduced by 3-5 tetri (2-3 cent), the report said.
Thus, at present, the cost of 1 liter of diesel fuel in the network of SOCAR Georgia petroleum company is 2.04 GEL ($1 = 1.75 GEL), diesel fuel of European ecological standards - 2.21 GEL, Regular gasoline - 2.04 GEL, Euro regular - 2.08 GEL, Premium - 2.16 GEL, Super - 2.25 GEL.
SOCAR Georgia petroleum reduced the prices of oil products in its network by 6 times for the last 2 months, and in the result the prices dropped by 8-10 tetri.
SOCAR (State Oil Company of Azerbaijan) is engaged in the distribution of oil products, gas in Georgia and owns a network of gas stations.