Russia denies treaty is a threat to Georgia
By Ana Robakidze
Wednesday, October 22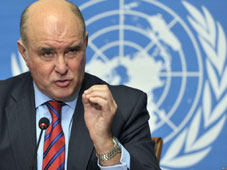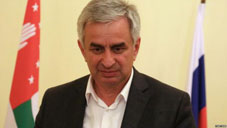 The Moscow initiated treaty offered to Georgia's break-away region of Abkhazia became a major topic of discussions in Luxemburg, an informal meeting was held between Georgian Foreign Minister Maia Panjikidze and her EU counterpart.
Panjikidze provided her European colleagues with detailed information on the Moscow initiated treaty, which offers Abkhazia to be incorporated into the Russian social and defense systems.
"We must condemn and stand against any attempt aimed to legalize the annexation of Georgian territories. All these efforts are the logical continuation of what Russia is doing in other regions, for example in Crimea," Lithuanian Foreign Minister Linas Linkevicius said after the meeting, which was initiated by the Latvian representatives.
However, Moscow is not going to alter its foreign policy and says Georgia's position regarding the alliance and integration between Moscow and Sokhumi is simply dangerous speculation and the treaty will not lead to Abkhazia's annexation.
"Georgia's assumption about the alleged 'annexation' of Abkhazia is unscrupulous and dangerous speculation, which can seriously harm the atmosphere of the Geneva discussions. Karasin (Russian deputy-Foreign Minister) expressed hope that the EU and other co-chairs of the discussions will make an effort to prevent such a development," the Russian Foreign Ministry says in its official statement, also stressing that Moscow still believes in the great importance of the Geneva talks.
Tbilisi is trying to increase the international community's involvement in the situation with Moscow.
On October 20, Deputy Foreign Minister Davit Zalkaliani and the PM's Special Representative for Relations with Russia, Zurab Abashidze arranged a meeting with Tbilisi-based foreign diplomats to discuss the Moscow-proposed treaty and its possible consequences. On the other hand, the Abkhazian government is not happy with the current draft of the Moscow treaty.
Abkhaz President Raul Khajimba met with representatives of the Abkhazian political party "Amtsakhara" to discuss the treaty. According to Abkhazian news agencies, Sokhumi is not going to sign the offered version of the treaty and will offer Moscow its own draft in the near future.