Defence Minister's Meeting with Caucasus University Students
Thursday, October 23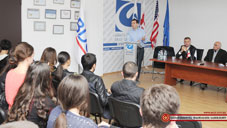 Minister of Defence Irakli Alasania paid visit to the Caucasus University. Minister met students in the Professor Mzia Mikheladze Conference Hall. The main topic of a public lecture was Georgia`s foreign policy course, NATO membership perspective and importance of the Substantial Package granted to Georgia at the NATO Wales Summit. Minister outlined that NATO recognized Georgia as its one of the most interoperable partners. Under the new cooperation format, Georgia will have the opportunity to take part in NATO`s strategic discussions alongside its member nations. Georgia will also engage in NATO operations and trainings` planning process.
Mr. Irakli Alasania highlighted Georgian troops' participation in international peacekeeping operations and focused on the implemented and planned defence reforms.
The meeting with the students went on in an interactive format. The questions mainly referred to regional security environment, Georgia`s territorial integrity and threats posed by Georgia. The students also expressed interest about Georgian troops' deployment in the peacekeeping mission ongoing in Central African Republic, development of air defence sector and cyber security issues. Minister answered all the questions of the Caucasus University students and underlined the education sector as one of the priority areas for the country.
After finishing the lecture, Caucasus University President Kakha Shengelia presented Minister of Defence with his books "Georgia`s History" and "Tao-Klarjeti".
The Minister of Defence of Georgia holds public lectures in various higher institutions periodically and provides information to the youth about the ongoing reforms in the MoD.