U.S State department to follow-up criminal prosecutions of former Georgian officials
By Ana Robakidze
Monday, October 27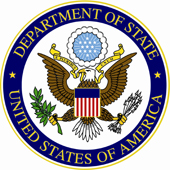 The U.S State department continues to closely follow the criminal prosecutions of former government officials in Georgia. Speaking at the daily press briefing, State Department spokesperson Jen Psaki said the U.S continues to assist in Georgia's democratic development, but the way some criminal cases have been handled in Georgia still causes some concerns.
"We continue to support Georgia's democratic development, which must include respect for political pluralism and open debate. As you know, because we've expressed it in the past there – we have expressed some concerns about the way some cases have been handled, and those concerns remain," Psaki stated, replying to the question about recently sentencing former interior and defense ministers Vano Merabishvili and Bacho Akhalaia.
"Well, we are closely following the investigations of current and former officials. We continue to stress to the Georgian Government the importance of due process and rule of law and of conducting investigations with transparency to avoid even the perception that the judicial system is being used for political retribution," the spokesperson stated, adding that she would prefer not to get into specific cases, as each incident is different.
Akhalaia was found guilty of power abuse and torture in two separate cases and sentenced to seven years and six months imprisonment by the Tbilisi City Court. Merabishvili was found guilty of power abuse when he served as Interior Minister. The court established that Merabishvili helped in covering up evidence in an attempt to obstruct the establishment of truth into the high profile murder case of Sandro Girgvliani in 2006.
Being asked whether the State Department shares the opinion of the ECHR, which has concluded that the former Georgian government obstructed justice in Girgvlaini's death case, Psaki replied that it is important to abide by the rule of law and allow the judicial system to work its way through an acceptable manner by international norms and standards. "That's a reference to the fact that we believe in some cases this hasn't been followed," she said.