Russia's Aeroflot resumes direct flights between Tbilisi and Moscow
By Ana Robakidze
Tuesday, October 28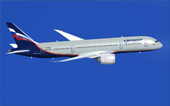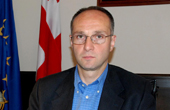 Direct flights between Tbilisi and Moscow will resume. On October 27, one of the largest Russian airlines Aeroflot officially started to operate on the Georgian market and plans to provide low-priced tickets to local customers. Flights will be provided by Georgian air companies as well.
Restoration of direct flights, as well as improved trade and cultural relations between Tbilisi and Moscow is a result of the Prague Talks, which usually take place every three months between the Georgian Special Envoy to Russia, Zurab Abashidze and Russian Deputy-Foreign Minister Gregori Karasin.
The United National Movement (UNM) says that it is unacceptable to have Russian companies operating on the Georgian market.
Speaking at a press conference, UNM MP Mikheil Machavariani says it is unacceptable to let Kremlin-controlled Aeroflot into Georgia airspace. He believes Aeroflot will create problems for Georgia, as well as foreign air companies.
"51% of the company (Aeroflot) share is owned by the Russian government," Machavariani said, adding that all flights to European countries that usually go through Istanbul will now be transferred to Moscow airports.
On the other hand, the Georgian business sector welcomes the restoration of the Tbilisi-Moscow flights. Representative of Air Caucasus, Giorgi Kodua says that the presence of Aeroflot will increase competition between the airlines and it will bring better service and prices for Georgian customers.
On average one way ticket to Moscow will be offered by Aeroflot for 168 Gel.