Multi-million project will boost jobs and quality of vocational education
Tuesday, October 28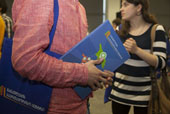 What are Georgia's most sought-after jobs?
Georgia's Education Ministry is eager to find out the answer to this question in order to increase employment and the quality of vocational education.
The Ministry announced it was conducting research with the National Center for Educational Quality Enhancement as part of the 'Promoting the Development of Vocational Qualifications' program to find out which sectors were most favorable to work in.
The European Union (EU) has allocated $27 million USD (47.4 million GEL) to implement this project.
The aim of the research was to create professional standards for these professions, said the Ministry.
The Ministry believed this approach was essential for employers, as they would get the opportunity to work with professionals in specialized fields, which was currently one of the main problems affecting Georgia's employment market.
Once research had been completed, new, more flexible programs would give students the opportunity to acquire skills and knowledge that were relevant for particular markets and employers, the Ministry said.
(Agenda.ge)