Irakli Alasania is not resigning
By Ana Robakidze
Friday, October 31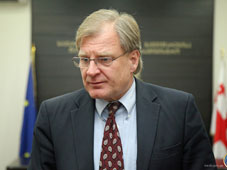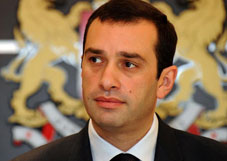 Defense Minister of Georgia, Irakli Alasania is not going to resign. Acceding to Foreign Minister Maia Panjikidze, Alasania is one of the most successful ministers in the cabinet and he should not leave his post.
"Irakli Alasania will not resign. He should not, because he is a very successful minister," Panjikidze told the Georgian media. Speaking about the success Alasania, Panjikidze emphasized defense reforms frequently praised by NATO officials.
State Minister for European and Euro-Atlantic Integration Alexi Petriashvili agrees with the idea that Alasania has been one of the most successful ministers of the new government.
"The issue of Alasania's political accountability is not even being considered (in the government)", the State minister said. According to him, the defence had expressed its readiness to cooperate with the investigation, therefore it would be better to wait for the court decision before making final conclusions.
Alasania's possible resignation became a topic of discussion recently, following the detention of Defense Ministry high officials, who were arrested on charges of misspending 4,102,872 GEL of the state budget.
The detention of the officials is a very alarming fact for Parliament Speaker Davit Usupashvili. "In the case charges against them are proved, issue of serious political responsibility should be raised. However, if the charges are not confirmed, then those, who raised this issue, should be held accountable." Usufashvili said, adding that regardless the final results of the investigation, the detention of the ministry staff has already affected the country's defense capabilities and the Georgian armed forces.
U.S Ambassador to Georgia, Richard Norland also expressed his opinion on the ongoing investigation and said the fact will not have an impact on the U.S-Georgia military partnership.
"Let me say this, I know that there have been a number of questions raised about this investigation. First of all, I want to say that the United States continues to have full confidence in Georgia as a military partner and a defense partner with the United States, bilaterally and with NATO. I want to say that we have full confidence in Minister Alasania and the leadership team at the Ministry of Defense, and we commend the way in which they have responded to this investigation by saying that they will cooperate fully with the investigation." Norland stated. He said he supports the investigation process and strongly believes if there appears some accusations of corruption, this needs to be investigated thoroughly.
"As always, we ask and urge the government to approach such investigations in accordance to the highest standards of due process and rule of law," the ambassador stated.