Abkhazians protest against Russian-initiated treaty
By Ana Robakidze
Monday, November 3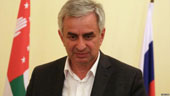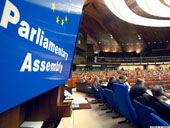 The Moscow-proposed treaty for alliance and integration between Russia and Georgia's break-away region of Abkhazia remains to be a great concern not only for the Georgian government but also for the Council of Europe (PACE).
The co-reporters of the PACE for the monitoring of Georgia, Michael Aastrup Jensen (Denmark, ALDE) and Boriss Cilevics (Latvia, SOC), have expressed their deep concern at the treaty.
"This proposed agreement violates international law and is another example of the creeping annexation of the Georgian region of Abkhazia by the Russian Federation… Instead of creating new barriers between people, Russia should encourage and facilitate contacts between people residing in Abkhazia and those in the rest of Georgia."
The two co-reporters stated on October 31st, who plan to visit Georgia from December 3-5 in the framework of the ongoing monitoring procedure with respect to Georgia.
Having rejected the Moscow prepared draft, Abkhazia de-facto parliament started to consider its own version of the treaty. The draft prepared in Sokhumi, focuses on deepening the strategic partnership between Russia and Abkhazia by taking into consideration interests of both sides.
The Abkhazian side believed that many articles of the Moscow draft treaty could lead to "the loss of sovereignty." The objections mainly focused on the articles of the draft treaty that propose the creation of a joint group of forces, to be headed in the event of war , and of a center that would coordinate the work of the two polities' interior ministries to counter crime and terrorism on Abkhaz territory.
According to the Sokhumi draft, the sides will carry out a coordinated foreign policy, Moscow will promote the process of internationally recognizing Abkhazia's independence, the sides will create joint military groups, exercise joint actions to protect Abkhazia's border with Georgia, military aggression carried out against each of the parties will be considered as aggression against the other party too.
The Moscow initiated treaty is unacceptable for the Abkhazian people as well. On November 1, Abkhazians held demonstration in Sokhumi center, requesting form the de-facto government to turn down the treaty. According to Nasha Abkhazia agency, the demonstrators demanded from the de-facto President Raul Khajimba to meet them and discuss the issues. The demonstrators said in the case Sokhumi signs the treaty it will immediately lead to losing the "sovereignty" of the region.