Georgian banks no longer allowed to own non-bank products and services
Monday, November 3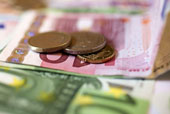 Commercial banks operating in Georgia's market are no longer allowed to own firms by bank holding companies which offer non-bank products and services.
The central bank of the country, the National Bank of Georgia (NBG), believed banks which offered unrelated products and services, such as construction or agriculture businesses, negatively influenced the competition of the market economy.
"National Bank of Georgia finds [it] risky for commercial banks to own non-bank businesses in a medium-term perspective. This practice creates a conflict of interests," NBG noted in a statement.
NBG said its decision was made after discussions with business representatives and consideration of international practices.
However, the NBG also confirmed that the share of non-bank assets in the total banking sector was still small but it showed a growing trend.
NBG's liberal policy towards banks being allowed to own non-banking businesses was part of the country's strategy to overcome the financial crisis after 2008-2009.
"NBG no longer see a reason to maintain this rule. The recent trend of improvement in the real estate sector and the increasing scale of banks' non-bank businesses put the need for change in the regulatory approach on the agenda," the NBG said.
Commercial banks that already owned non-bank businesses must now present to the NBG a detailed strategy of how it would sell its shares in such businesses by the end of November 2014.
(Agenda.ge)