Turkish parliament speaker visits Georgia
By Ana Robakidze
Tuesday, November 4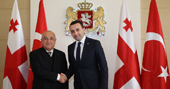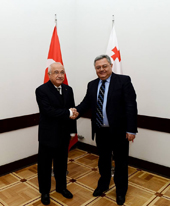 The head of the great national assembly of Turkey Jemil Cicek is paying an official visit to Tbilisi. Georgian Prime Minister Irakli Gharibashvili welcomed the Turkish guest at the State Chancellery on November 3.
The parties focused on the future of Georgian-Turkish trade relations, as well as on activating inter-parliament friendship groups. Turkey remains Georgia's number one trade partner.
Gharibashvili and his guest discussed the Baku-Tbilisi-Karsi railway road project, which will increase trade turnover and will deepen regional cooperation in the fields of transport and trade.
According to Gharibashvili, Turkey is a reliable ally and strategic partner to Georgia. He thanked Cicek for the support Georgia receives from Turkey for its Euro Atlantic aspirations. The PM also expressed his gratitude towards the Turkish government for approving the program on "teaching the Georgian Language in public and private school of Turkey in 2014-2015". At the meeting it was emphasized as well that cooperation with Turkey in the field of cultural heritage is one of the key priorities for Georgia.
Jemil Cicek also met with his Georgian counterpart, Parliament Speaker of Georgia David Usupashvili. The parties discussed and agreed on the further strengthening of bilateral economic, political and cultural relations
"I agree with Jemil Cicek's formula that bilateral relations can be described as more than neighborhood relations can be. We noted that Turkey and Georgia are strategic partners. I thanked the guests for the policy Turkey has regarding the sovereignty and territorial integrity of Georgia and for its commitment in playing a positive role in the peace and stability in the South Caucasus," Usupashvili said at the briefing.
"I would like to say that our relationship is a model for the world, it is a strategic cooperation based on governmental relations but the major part is relations between the people. It is evident from the fact that we have a visa-free regime. Stability, welfare and progress in Georgia is important for us, as we share a common geographic region. Thus, we support Georgia's integration into NATO," Cicek stated.
Turkish parliament speaker will head to Batumi on November 4, where he will meet the head of the Adjara Autonomous Republic Archil Khabadze.