South Ossetian de-facto government to further restrict freedom of movement for Georgians
By Ana Robakidze
Wednesday, November 5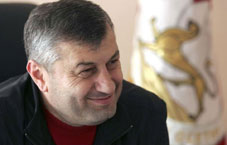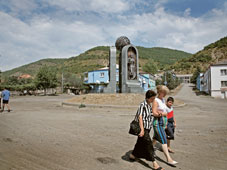 The breakaway regions of Georgia continue their policy of separation from Georgia. While the Abkhazian de-facto government continues to work on a future treaty in its alliance and integration with Russia, South-Ossetia plans on further restrictions on the freedom of movement for ethnic Georgians in the Akhalgori municipality, which is located along the administrative border between the breakaway region and Georgia.
Currently, Georgians can travel to the region using special permits. This rule shall be replaced starting January 1, 2015 and only holders of South Ossetian "passports" will be able to pass through the block-post controlled by the de-facto government. Also those who currently live in Akhalgori will have to abandon their houses and leave the region in the case they do not apply for South Ossetian "passports".
According to the Akhalgori Gamgebeli Nugzar Tinikashvili, there have been around 1,000 passports issued by the de-facto government. However, no one from Akhalgori has renounced their Georgian citizenship or refugee status, which is a necessary procedure in order to receive South Ossetian citizenship.
Former de-facto President of South Ossetia Eduard Kokoiti believes Ossetians have achieved a great victory in their war with Georgians and they still have a lot to claim, including Truso gorge, which as Kokoiti claims, is Ossetian land and they will fight for it till the end. Speaking at the 8th gathering of Ossetians, an event which was held in Vladikavkaz, the administrative center of Northern Ossetia in the Russian Federation, Kokoiti said that Ossetians and Abkhazians have gained victory together and now the Crimean people are beating fascism.
"We represent a united Ossetia. We should be united and let nobody divide us into Christians and Muslims," Kokioti said, and asked his people to appreciate the liberty they have gained.