U.S advises Georgia to demonstrate stability
By Ana Robakidze
Friday, November 7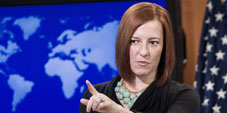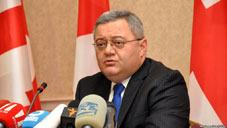 The US State Department says there are some concerns over the recent changes in the Georgian government.
"The United States notes with concern the Georgian Prime Minister's dismissal of Defense Minister Alasania and his deputy ministers, and the subsequent resignations of State Minister for Euro-Atlantic Integration Petriashvili and Foreign Minister Panjikidze and her deputy ministers. We have greatly appreciated the work of these ministers in service to their country and in partnership with the United States," State Department spokesperson, Jen Psaki stated on November 5.
The U.S government believes Georgia has to demonstrate stability, unity, and commitment to due process and the rule of law in the current situation, as the country is in the middle of regional turmoil and domestic economic challenges.
"We urge all parties to work towards these goals and to focus on securing Georgia's Euro-Atlantic future. We call upon the Georgian government to take steps to dispel perceptions that the judicial system is being used for political purposes, and to demonstrate its commitment to our shared democratic values," the State Department statement says.
"Honestly, I do not believe, that the processes going on here (in Georgia) are similar to what has happened in Ukraine," Parliament Speaker Davit Usupashvili said on November 6. Commenting on the statement of the U.S department, Usupashvili said that Georgia's friends in the U.S and elsewhere, also point out that the country is expected to better handle intergovernmental problems.
"It is impossible to disagree with our friends in Washington and in many other countries as well," the speaker stated. According to Usupashvili, the tension will disappear shortly, but it does not mean that all the problems in Georgia's political system will vanish automatically. The speaker said that changes in the government are a part of the normal political process in every country, but Georgia has to somehow handle these problems as it is done in civilized countries.