President Margvelashvili to address parliament
By Ana Robakidze
Wednesday, November 12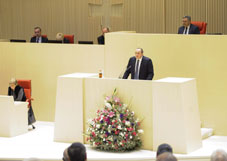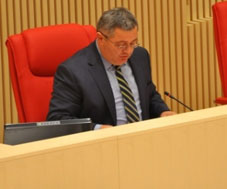 Georgian parliament will host President Giorgi Margvelashvili on November 14th. The president will report on the sustainability of the Euro-Atlantic course of the country.
Based on Margvelashvili's request to arrange a special parliamentary hearing on the country's foreign policy, it was decided at the parliament bureau hearing that the president will address law makers with about a 30-minute long speech.
"Change in Georgia's European course is actually impossible. But at the same time, it is absolutely possible to raise questions about how efficiently each politician serves the will of our nation and this question should be answered adequately," Margvelashvili said on November 5.
"Our work should be efficient… I appeal to the Georgian government and the parliament within the authority granted to me by the constitution to discuss at the next session, the government's efficient implementation of Georgia's Association Agreement with the EU and the Substantive Package with NATO. I will attend these discussions together with the secretary of National Security Council," the president said.
The procedural format of the special session was arranged by Parliament Speaker Davit Usupashvili. He announced that after the president's 30-minute speech, he will take 10-12 minutes to address the lawmakers. "The speech will echo the issues the president wants to speak about and this process will be accomplished," Usupashvili explained at the bureau hearing.
Members of the opposition United National Movement (UNM) say the president's visit to parliament is just a formality.
Parliament will have another guest for the Friday session, Finance Minister, Nodar Khaduri will introduce the report on budget implementation.