1st Artillery Brigade Jubilee
Thursday, November 13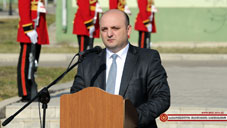 The first Artillery Brigade of the Georgian Armed Forces celebrated its 21st anniversary on November 10. A solemn ceremony was held at the Brigade drill ground in Vaziani. Before the ceremony, Minister of Defence of Georgia Mindia Janelidze laid a wreath on the memorial of the artillerists fallen in the fight for the unity and territorial integrity of Georgia. Chief of the General Staff of the GAF Maj. Gen. Vakhtang Kapanadze and First Artillery Brigade Commander LTC Zurab Tabukashvili also paid tribute to the memory of the fallen soldiers. The minister congratulated the soldiers on the anniversary and wished them success in their future activities:
"The 21st anniversary of the First Artillery Brigade has been marked. We`ve come here to congratulate the military on this occasion. The role of the artillery is special for the armed forces of Georgia. Our artillerists always fulfilled their duties with dignity and participated in all the conflicts in Georgia. I also want to congratulate the recruits on this day waiting to take an oath and to start their military service. We've seen the part of the armament under possession of the Artillery Brigade. During the development of the Georgian army, one of our priority directions will be artillery. We are determined to pay proper attention to it."
The Minister of Defence awarded service weapons to the First Artillery Brigade for their high professionalism demonstrated while performing their duties. Chief of the General staff of the GAF Maj. Gen. Vakhtang Kapanadze bestowed seven artillerists a medal "Devoted to the Motherland". The soldiers were also rewarded for their merit in strengthening the defence capabilities of the country. For the outstanding service in the MoD, the artillerists were handed the Medal "General Kvinitadze" and "I Rank" awards. In addition, 37 soldiers from the First Artillery Brigade were granted certificates of gratitude from Chief of the GS and Land Forces Commander. At the end of the event, the Minister of Defence viewed the artillery equipment specially exhibited in marking this day and had a talk with the family members and relatives of the military.