Chief of GS summarizes visit to U.S.
Thursday, November 13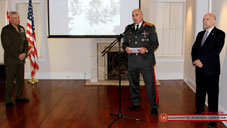 Chief of the General Staff of Georgian Armed Forces finished an official visit in the United States of America. Maj. Gen. Vakhtang Kapanadze held meetings with the U.S. military high-ranking officials at the Pentagon.
"This visit may be considered as unique in terms of its scale, content and the number of meetings. All this is proof of the respect demonstrated towards the Georgian army. It is the merit of all the servicemen fulfilling their duties successfully from both inside and outside the country, as well as thanks to the reforms implemented in the GAF," stated Maj. Gen. Vakhtang Kapanadze.
Within the frames of the visit, the Chief of Defence of Georgia met the U.S. Chief of Staff of the Army, General Raymond T. Odierno, Chairman of the Joint Chiefs of Staff, General Martin E. Dempsey, Vice Chief of the National Guard Bureau Lt. Gen. Joseph L. Lengyel, Director of the Defense Security Cooperation Agency (DSCA) Joseph W. Rixey and Assistant Commandant of the Marine Corps Lt. Gen John M. Paxton. Adjutant General (TAG) of the Georgia National Guard Jim Butterworth arrived from the state of Georgia specially to meet Maj. Gen. Vakhtang Kapanadze. Chief of the GS of GAF also visited Walter Reed National Military Medical Center in Bethesda, Maryland, where the he was hosted by Director General Jeffrey Clark. Maj. Gen. Vakhtang Kapanadze also went to see the US Army War College. At the end of the visit, Chief of Defence arrived at the Embassy of Georgia in the United States, where an official reception ceremony was held exclusively for him.