CiDA organizes meetings in Istanbul within G-PAM project
By Messenger Staff
Thursday, November 13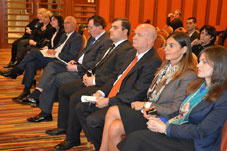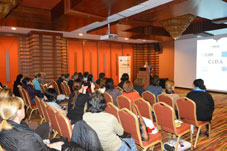 On November 8-9, CiDA organized meetings with Georgian migrants living in Turkey and potential investors from Georgia/Turkey. Aim of the meetings was introduction of the conditions of existing small and medium size enterprises in Georgia; also, meeting was oriented to find out the main problems the Georgian women migrants have in a foreign country.
The meetings were attended by representatives of Enterprise Development Agency of Georgia and The State Ministry on Diaspora Issues of Georgia. Avtandil Ghoghoberidze and Mariam Rusishvili of Enterprise Development Agency briefed the conditions of current project "Produce in Georgia" and talked about the small and medium size business possibilities in the country. Temur Tartarashvili from the Ministry of Diaspora issues talked about the future plans of the ministry in relations with migration into Turkey. After presentations discussion was held where the Georgian migrants raised the most acute problems they face abroad.
At the end of the meeting a film was shown "what should a woman know if she wants to go to Turkey". Lawyers made legal assistance to the Georgian migrants on the place. Film gives some recommendation and suggestions which will make easier for a new migrant to adapt a new country, it also warns potential migrants about the threats they may face in a new country and gives information about employment situation.
The meetings were held within the EU funded project "Georgia - Personalized Assistance for Migrants" (GPAM) which is implemented by Civil Development Agency – CiDA and aims at supporting Georgia to better manage migration processes.