Ambassador Norland meets with new Foreign Minister
By Ana Robakidze
Friday, November 14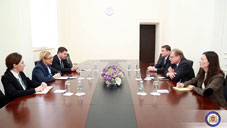 U.S Ambassador to Georgia, Richard Norland held his first meeting with the newly appointed Foreign Minister Tamar Beruchashvili. According to the ambassador, he went to the Ministry to once again confirm the U.S support for Georgia's foreign course.
"My message was basically that just as with the previous minister and previous governments, we are 100 percent behind Georgia, working with Georgia to address these challenges together," Norland said after the meeting.
According to the MFA press center, the parties discussed various aspects of the Georgia-U.S strategic partnership, as well as Georgia's agenda with Euro-Atlantic organizations. Norland was also interested in the current situation in Georgia's break-away regions, as well as the Kremlin-proposed "Alliance and Integration" treaty with Abkhazia.
"We discussed Georgia's regional as well as international challenges in detail. Of course problems in Ukraine and relations with Russia were one of the topic sof the discussion" Beruchashvili said after the meeting.
Norland said the minister was very clear in stressing the main goals of the country's foreign policy and she expressed the appreciation Georgia has for the US as key strategic partner.
The ambassador said Beruchashvili's intention to accompany Prime Minister Irkali Gharibashvili to Brussels later this month for his meetings with the European Council and the NATO Secretary General is a very smart decision.
"We also talked about the immediate challenges that Georgia faces in the region, the increasingly dangerous situation in eastern Ukraine and the concern that Georgia has about that," Norland noted.