Margvelashvili calls on government to strengthen institutional governance and rule of law
By Ana Robakidze
Monday, November 17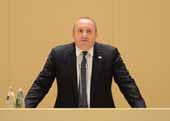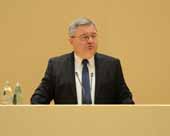 President of Georgia, Giorgi Margvelashvili believes that strong institutional governance and undisputable rule of law will lead Georgia to European Union membership.
In his special address to parliament, where Margvelashvili spoke about the European future of the country, he said it is essential to establish a Western-style rule of government and become a state where the rule of law is an inviolable principle.
"In a legal state, all shall be equal before law – as an individual, also the state institutions. It is necessary to launch a well-operating system – separating the government branches, their mutual control and mutual balance. We should not accept the substitution of interaction between the state institutions with personified relations between the chiefs of these institutions; the decision-making process should be placed in a formal environment determined by the constitution. It is obvious that democratization and institutionalization are the fundaments of the European and Euro-Atlantic integration of our nation," Margvelashvili stated.
According to the president, disrespect of state institutions, and ignorance of the principles of balance and power allocation would pose difficulties to state institutions.
Speaking about the EU-Georgia Association Agreement and the NATO support package, Margvelashvili emphasized the role of the lawmakers and said the parliament should become a flagship of European integration reform, and on the other hand, a guarantee for the stability of the country's Euro-Atlantic course through implementing efficient oversight over the government.
"I should also stress my position regarding the annexation of Abkhazia and the Tskhinvali region… We should all be unified – both politicians and the whole community. The threat of annexation should not separate us, it must unite us. We should act all together to achieve democracy, security and the stability of our homeland. I also believe that a European and democratic state will be attractive for our Abkhaz and Ossetian citizens," the president said, adding that his visit to parliament was to demonstrate the unity of the ruling power in a decisive moment for the country.
Following the session agenda, Parliament Speaker Davit Usupashvili addressed lawmakers. He said the president covered a number of crucial issues in his speech and agreed with Margvelashvili that the parliament has a responsibility to administer the country and keep it on the right path.
"Georgia's foreign policy course is the part where we are united – parliament, the president, and the government agrees that our foreign policy course, as defined with our electoral program, resolutions and statements, remains the same. But implementation needs more work," Usupashvili said.
After the President's speech, MPs from the United National Movement (UNM) left the session in protest of the parliamentary bureau's decision that banned MPs from asking questions to Margvelashvili.