UNM rally unfolds peacefully in the streets
By Messenger Staff
Monday, November 17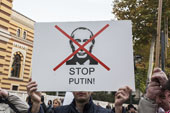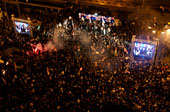 On November 15, the former ruling party United National Movement (UNM) organized a rally in Tbilisi. The rally was tagged as a national protest against Russian occupation. According to party representatives, the protest was nation-driven and not partisan. However, the Georgian Dream Coalition labeled the rally as a UNM party event.
What was the outcome of the rally and what was its incentive? The UNM in fact was the only political organization that initiated and participated in the demonstration. Other political parties did not respond and did not participate in the rally, leaving the UNM supporters alone in the event.
The UNM remains a major parliamentary opposition in the country. However, it did not have the resources to unite other opposition parties. The rally attracted mostly neutral layers of the population.
One thing the November 15 rally made clear, is that the Georgian population still supports the country's western orientation and is very much against Russian rule in the region. Georgia preserves a strictly western orientation and it condemns the Russian occupation of its territories. However, the current government's initiative to regulate relations with Russia and confront it, has so far yielded little results. In fact, the inside motivation of the UNM to hold the rally was to demonstrate that the current government has not done much in the direction of regulating relations with Russia
In the statements of the UNM activists and leaders it was repeated multiple times that the current leadership collaborates with Russia and slogans like "down with the occupiers" and "down with the collaborating government". Former Georgian President Mikheil Saakashvili addressed the participants gathered in front of the parliament building. Saakashvili was not present at the rally. Instead he gave his speech via Skype from Ukraine.
As a credit to the authorities, it should be mentioned that the rally of nearly 10,000 people was held in a peaceful atmosphere and security was ensured by police officers patrolling the territory. No incidents or confrontations took place.
It has been repeatedly stated that a peaceful, pragmatic, well-balanced policy, which should be followed slowly but steadily, could bring the desired results. But it was Saakashvili's administration that was unable to preserve the equilibrium between Georgia and the breakaway regions and essentially deteriorated the situation, which resulted in Russia's recognition of the independence of Georgia's breakaway regions.
November 15, could also trigger Moscow to activate an aggressive policy against Georgia. On the other hand, this event should be a wake-up call for the coalition to unite for a better future for the country. However, it should be mentioned that destruction requires only one day, and construction-many years.