Georgian PM and NATO Secretary General meet in Brussels
By Ana Robakidze
Wednesday, November 19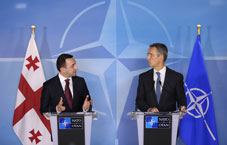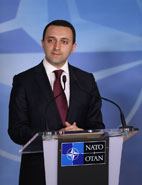 Georgia has made impressive progress in recent years and NATO gave the country "a package" in order to strengthen its defense capabilities, and to help to become a member, NATO Secretary General Jens Stoltenberg said after the meeting with Georgian Prime Minister Irakli Gharibashvili on November 17.
At the meeting in NATO headquarters in Brussels, the parties discussed the regional security issues and implementation of the substantive package.
The Secretary General of the alliance called the summit in Wales an important stage in NATO-Georgia relations and noted that NATO would support Georgia in empowering the defense capabilities and rapprochement to membership with a substantial package.
"The PM was very strong, very clear… I have no reason to doubt (Georgia's EU integration course). This is a strong commitment made by the PM and also the people of Georgia," Stoltenberg said at the joint press conference held after his meeting with Gharibashvili.
Stoltenberg announced that a NATO training centre will be established in Georgia as a part of the substantial package given to the country.
"NATO will support defense capacity-building in Georgia through embedded trainers. And we are pleased that Georgia will host this new NATO-Georgia Training Centre. The centre will help Georgian forces maintain their ability to work with NATO. And it will prepare Georgia and other partners for future contributions to the NATO Response Force," the Secretary General stated.
He promised that NATO will continue to support Georgia as the country continues to go forward with its democratic reforms and further strengthens the rule of law and the independence of the judiciary. According to Stoltenberg, by the power of the Bucharest summit decision, Georgia will become a NATO member, if the relevant criteria are met.
PM Ghariabshvili spoke about Georgia's full commitment to effectively implement the substantial package. He also mentioned that Georgian government remains concerned over Russia's activities in the break-away regions of Abkhazia and South Ossetia.
"In this regard, I wish to express our concern and anxiety due to the fact that despite our constructive approach to Russia, the Russian side continues its destructive policuy against Georgia in the occupied territories, which is aimed at de facto annexation of the region of Abkhazia and, possibly, the region of Tskhinvali," PM stated.