Investigation sparks controversy
By Ana Robakidze
Thursday, November 20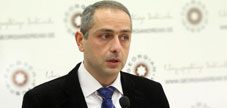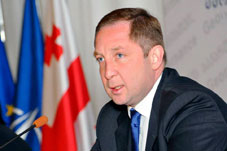 Head of the Parliament Committee on security and self-defense Irakli Sesiashvili says the evidence in the high profile "case of cables" should not be disclosed to the public. The evidence contains classified information and its disclosure can be harmful to state security, the MP believes.
"I have checked the documents (taken by the authorities from the defense ministry) and I strongly believe the part of the paperwork related to highways and other technical details should not be disclosed. We have to secure state interests and secrets," Sesiashvili said on a Rustavi 2 talk show, speaking about the so called "cables case", which involves five high-ranking officials of the defense ministry. The officials were arrested by the prosecutor's office and are accused of embezzlement of 4.1 million GEL.
The Prosecutor's Office stresses that on December 26, 2013, the Ministry of Defense concluded the state procurement contract with JSC SILKNET regarding the purchase of fiber-optic cables, network equipment, with the terms of purchase-installment and providing relevant services. According to the contract, the Ministry of Defense was supposed to pay JSC SILKNET in total GEL 6.7 million GEL. The investigation says the actual price of the equipment and the services the ministry ordered form JSC SILKNET is only 2.6 million GEL.
Lawyer, Soso Baratashvili says the prosecutor's office failed to provide the defense side with all the documents related to the case, at the same time violating the criminal procedures codes of Georgia.
Changing the status on the secret documents and revealing its content is the only way to establish the truth in the case, says the former Defense Minister Irakli Alasania. According to him it is impossible for the defense lawyers to work on the case.
Former State Minister Alex Petriashvili says the prosecutor's office has to provide the lawyers with the secret documents as soon as possible, otherwise this fact will attract international attention as a grave violation of the law. Petriashvili, currently the Secretary General of Alasania's party the Free Democrats, says the investigation looks like it is all politically motivated and its main goal is to discredit the former defense minister. Therefore, the Free Democrats have a great interest is revealing the truth behind the "cable case" and the party is going to put all efforts into it.