Moscow to sign agreements on alliance with Sokhumi and Tskhinvali
By Ana Robakidze
Friday, November 21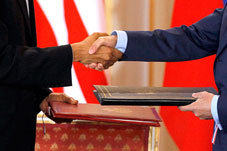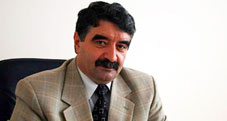 The de-facto government of Abkhazia approved a draft agreement on "alliance and strategic partnership" with Russia.
The treaty initiated by Moscow has undergone some amendments, as the original draft was unacceptable for the Abkhazia parliament. Abkhazian MPs believe the original version of the treaty would have lead Abkhazia to losing its sovereignty if approved.
The Alliance and Integration agreement, should strengthen Russian-Abkhazia co-operation in defense and security, incorporate the de-facto region residents into the Russian social protection system and bring the region economically closer to Eurasian Union countries.
According to the Russian news agency RIA Novosti, the de-facto government will send the treaty to the Abkhaz leader Raul Khajimba so he can sign it.
Georgian State Minister on Euro-Atlantic Integration Davit Bakradze, who took the office recently says he will study the situation regarding the Russia-Abkhazian treaty and voice his opinion afterwards.
Abkhazia is not the only region Russia plans to sign the agreement with. According to the president's administration in break-away South Ossetia, the region will become even more integrated with Russia. According to the head of the administration, Boris Chochiev, the parties are working on an integration agreement.
"We together with our colleagues are currently working on a new and more comprehensive agreement on integration," Chochiev said. He stressed the importance of the new agreement and said it should take Tskhinvali and Moscow to another level of cooperation and strengthen the military partnership.