Georgia seeks international support against Russia-Abkhazian treaty
By Ana Robakidze
Monday, November 24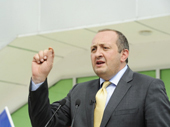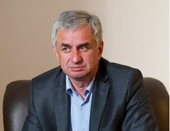 The Georgian government condemns Moscow's decision to sign the alliance and strategic partnership with Abkhazia. Russia has taken one more step towards the full annexation of Georgian territories, the Ministry of Foreign Affairs said in the official statement.
"Despite the many constructive steps taken by Georgian authorities, no progress in political aspects have been achieved with Russia. Statements made periodically by representatives of the Russian authorities about their willingness to normalize relations with Georgia are clearly in conflict with their actual steps," the MFA said, and called on the international community to provide a proper assessment to Russian activities in the occupied regions and to use all the levers at its disposal to dissuade Russia from undertaking yet another aggressive move against Georgia.
"Georgia will never tolerate the infringement of its territorial integrity, and consequently it is not going to make any compromise over this issue," the statement reads.
On November 20, the de-facto government of Abkhazia approved the Abkhazian version of the Moscow-initiated treaty. Sokhumi made some amendments in the text, as well as changed the title of the treaty from "Agreement on Alliance and Integration" to "Agreement on Alliance and Strategic Partnership".
The Abkhazian side set the following major priorities in the agreement: to carry out coordinated foreign policy together with Russia, to create a common defense and security space, as well as a common social and economic space, accepting Russian assistance in social-economic development.
The final draft offers setting up a collective defense system, meaning that, attack against one party shall be considered an attack against another party and the participant sides take responsibility to provide the necessary assistance, including military, to each other. Also, Moscow and Sokhumi will create a Combined Group of Forces within one year after the agreement enters into force. Russia will also help Abkhazians to control and protect their border with Georgia.
Despite having approved the revised version of the draft, Abkhazian society still has many concerns regarding the treaty. Abkhazian Amtsakhara party strictly opposes the treaty with Russia. The party has announced that it will hold a rally against the agreement on November 24.