Prime Minister opens new winemaking factory
Monday, November 24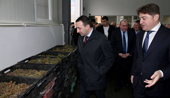 Another new credit co-sponsored venture - today the Prime Minister opened the new local traditional winemaking factory in Keda.
Enterprise, which is carrying out the reception - processing of unique grape varieties of the west Georgia, was visited by the Prime Minister together with the Agriculture Minister Mr. Otar Danelia. Premier focused on the development of winemaking - viticulture and preferential agro lending successful project in the country.
"As for the winemaking - viticulture, in this field we are really very successful.
For 2 years wine growing revenue, received from vintage reached 300 million. Also, for 2 years in 42 countries around the world Georgian wine exports grew by 250 percent. More successful results encouraged the peasants, farmers. Intensive cultivation of the vineyards, Unique and rare species of vine plants are being built," said the Prime Minister.
For construction of "The local traditional winemaking" factory there was spent an amount of 600 000 US dollars by the Agricultural Credit Management Agency, the investment of which is one million GEL.
The factory with the latest European technologies, modern laboratories, and refrigerating equipment, will receive the unique grape varieties of Guria and Adjara and in full load conditions will process about 1,000 tons of grapes.
(PM Press center)