New shopping mall earmarked near Georgia's breakaway Abkhazia
Monday, November 24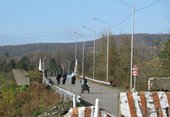 A multi-functional shopping mall will soon be built within a stone's throw of Georgia's administrative border with breakaway Abkhazia, say Georgian officials.
The large facility is earmarked to be built in Rukhi, a village in the western Georgian city of Zugdidi - about a kilometer from Enguri Bridge along the so-called administrative border of Georgia and breakaway Abkhazia.
The announcement was released by the press office of the Prime Minister of Georgia after the today's Economic Council meeting, which is chaired by PM Irakli Garibashvili.
Construction work on the new shopping centre was expected to start in spring 2015 and finish in autumn. The shopping mall will also feature banks, a veterinary clinic, post office, pharmacy and warehouses for agricultural products.
As well as construction of the shopping mall, development of a multi-profile university medical clinic housing 220 beds has already started following an earlier decision of the government.
After visiting the new clinic territory and reviewing the construction yesterday, the Ministry of Infrastructure announced people living in Abkhazia would also have the opportunity to use the hospitals' medical services.
At the facility, lecture halls and libraries for student as well as sports facilities, swimming pools, squares and dormitory for family members of the patients will also be built.
(Agenda.ge)