Khajimba arrives in Russia to sign treaty with Moscow
By Ana Robakidze
Tuesday, November 25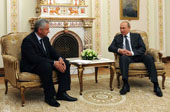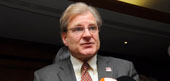 De-facto president of Abkhazia Raul Khajimba arrived in Sochi, Russia to sign the alliance treaty with Moscow. Before the ceremony, Khajimba and Russian President Vladimir Putin held a meeting to discuss future bilateral relations and cooperation in regional security.
According to InterFax news, Putin promised Khajimba he would double financial assistance for Abkhazia once the treaty is signed.
Speaking to Abkhazian television on November 23, Khajimba said the treaty on alliance and strategic partnership with Russia will strengthen Sokhumi-Moscow relations and thanked Russian for being the only country supporting Abkhazia in its hard times.
"Russia was the only country to support us when we had a hard time. While we were unrecognized, Russia remained faithful to its historical alliance with Abkhazia. If not for Abkhazia, NATO troops would have already been standing on Russia's southern borders. We have protected ourselves and at the same time protected the interests of Russia as well," Khajimba said in his interview. He also mentioned that the treaty in no way contradicts the Abkhazian constitution.
"We should keep in mind that it is called the treaty on alliance and strategic partnership," he said.
Despite the negative recall from the international community and even on the part of Abkhazian society, Khajimba and Putin will sign the treaty. Meanwhile, a rally was held in Sokhumi, where those who oppose the agreement with Russia had gathered in Sokhumi's center, demanding that the de-facto government turn down the Moscow-initiated treaty, as it can be a great threat to Abkhazia's independence.
According to Khajimba, opposing the agreement with Russia is a display of short-sightedness and is wrong from a moral point of view.
"I am confident we will manage to solve the internal controversies ourselves and there is no need for it to affect our relations with Russia," Khajimba said in his interview.
"Together with the Georgian people we will resist this step Moscow makes," President of Georgia, Giorgi Margvelashvili told the media, when he was asked to make a comment on the Abkhazia-Russian treaty. He said the Georgian government has been oriented on solving this problem. Margvelashvili addressed the Abkhazians and Ossetians to remind them that they should consider their future existence only within Georgian borders.