Income of the rich 70 times more than the poor in Georgia
By Messenger Staff
Tuesday, November 25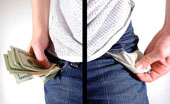 As it appears there is no middle class in Georgia currently. Despite various poverty defeating programs in the country, poverty still flourishes.
According to the official information of Geostat, 10% of Georgia's population is extremely poor; the percentage is equal to more than 430,000 men.
In the case if an individual is taken as a middle class representative, he should have at least 2,804 GEL on his bank account. (Enabling minimum in Georgia is 1,558 GEL, 18 month total sum of the money is exactly 2,804 GEL).
Based on empirical approaches, the rich population of Georgia and those living in good conditions meet 10% of the whole population. The middle class representatives create 8-10% of Georgia's population, while the rest 80% have to live in poverty or in extreme poverty.
According to analyst Lia Eliava there is a dangerous tendency in the country. "During recent years the rich have become richer, while the poor have become poorer. The reason of the tendency is the absence of the middle class that would have balanced the situation," she says.
"Until the government fails to run the country and its economy appropriately, the situation will remain unchanged," Eliava stressed.