Power restored after major failure at Georgian power plant
Tuesday, November 25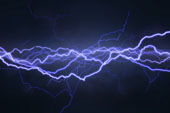 Homes and businesses throughout Georgia have been reconnected with power after a major failure at the country's main thermal power plant early on November 24.
The nation plunged into darkness for about 10 minutes after the electricity supply was cut to everyone in Georgia just after 2am when the Gardabani Thermal Power Plant experienced a failure. The cause of the problem has not yet been determined.
Minutes later, power was restored in western Georgia and then in the country's eastern areas step by step.
By 4am, power had been restored to the whole population, said Energy Minister Kakha Kaladze. He had been at the dispatcher's office all night assessing the problem.
General Director of Georgia's State Electro systems Sulkhan Zumbuladze said they used energy from the power plant's reserves to timely restore power to the Georgian people.
He added "in the nearest days" once an investigation was complete, they would know the exact cause of the power plant failure.
By 11am Monday, the country's electricity supply was working as normal, the official said.
(Agenda.ge)