11 years since the Rose Revolution
By Messenger Staff
Tuesday, November 25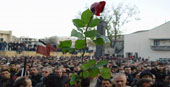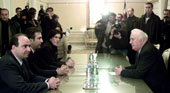 The public did not pay much attention to the 11th anniversary of the Rose Revolution on November 23. Saint George's Day, a traditional religious holiday, and the Russian-Abkhazian treaty were more in the public's focus.
However, it should be noted that the current situation in the country is a result of the multiple negative and positive changes the Rose Revolution created.
Large-scale rallies started in Georgia in November 2003, when the opposition protested the election outcomes. Protesters rushed into the parliament building on November 22, 2003, followed by the resignation of then President Eduard Shevardnadze.
After the Rose Revolution the United National Movement (UNM) and the United Democrats took office. Mikheil Saakashvili was elected as the President; Zurab Zhvania took the post of Prime Minister, while Nino Burjanadze became the parliament chair.
The triumvirate was breached soon. Zhvania was found dead on February 3, 2005 and Burjanadze moved to the opposition in 2008. Saakashvili's two terms in office expired and he left the post in 2013.
Serious changes were caused by the emergence of the Georgian Dream coalition in 2012, which defeated the UNM in the 2012 parliamentary elections, won the 2013 presidential race and the 2014 local elections.
The Rose Revolution anniversary is no longer marked by the new government.
The UNM had run the country for 9 years. The West still views this party as a big reformer, while many Georgians will not forgive this party for putting itself above the law and making multiple mistakes. There are certain movements within the country that demand a ban on the UNM as a political entity.
The movement Free Zone held a rally in front of the UNM Office on November 23. They stated that nine years ago, from this office the UNM launched its "criminal activities." The demonstration resulted in the detention of several protesters for hooliganism.
Meanwhile, former President Mikheil Saakashvili recalled the day through his facebook page, where he stressed the importance of the date. He admitted that the revolution pushed forward vitally important and unprecedented reforms in the whole Caucasus region.
He emphasized that through the revolution and its consequences, Georgia has become positively famous in the civilized world.
It is obvious that Georgia requires advancement to survive. Unfortunately, the current political parties are not ready to cooperate and fail to provide adequate responses to dangerous challenges.