Georgia-Latvia Business Forum urges investors to discover Georgia
Friday, November 28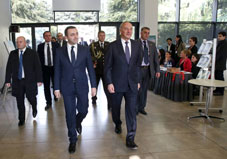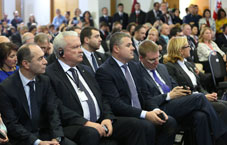 Georgia's Prime Minister pledges the Government is ready to offer investors comfortable conditions to develop their businesses in Georgia.
President of Latvia Andris Berzins and Georgia's Prime Minister Irakli Garibashvili opened the Georgian-Latvian Business Forum today, which aimed to discuss opportunities for development projects, growth in exports in European Union (EU) countries and foreign direct investments.
Speaking at the opening ceremony, Garibashvili highlighted the importance of developing economic and political relations between the two countries.
"Georgia is open to foreign investors. [We] especially welcome our ever deepening economic relations with Latvia. Although bilateral trade between our countries is growing, which we commend of course, I am nonetheless convinced that there remain many directions to advance in terms of investment and trade cooperation," he said.
Latvia is the upcoming president country of the European Council. During the Latvian EU presidency, an Eastern Partnership Summit will be held in Riga in May, of which Georgia will attend. Georgian Government officials believed this format of relations was the best solution for deepening relations with the countries in Eastern Europe, particularly Latvia.
More than seventy Latvian delegates representing energy, construction, insurance, finance, food production and the engineering industry fields visited Georgia to share their experience and present investment plans with their Georgian colleagues.
"Latvian businessmen joined the Governmental delegation in Georgia for establishing contacts and cooperation in the development of serious and far-reaching business projects with Georgian partners," Latvia's President Berzins said.
Meanwhile Garibashvili was confident Georgia has especially close political and economic relations with Latvia and it expected not only to maintain these relations, but to further deepen them.
"For you, investing in Georgia is as safe as investing in any country in Europe, except that your costs and taxes will be lower, there will be fewer regulatory burdens and your returns will be higher," Garibashvili said.
"We are committed to fulfilling our important tasks and ensuring macroeconomic stability, open and fair competition in the market, protection of property rights including intellectual property, access to impartial justice, and a stable, predictable and transparent legislative environment."
Garibashvili made special mention of the importance of Georgia's Deep and Comprehensive Free Trade Area (DCFTA) with the EU.
"Georgia's export to EU states in 2012-2014 grew by 70 percent. And this is with the DCFTA having been in force provisionally for only three months, since September 1, 2014.Estimates indicate that in the long run the full enactment of the DCFTA will increase Georgia's exports by 12.4 percent and imports by 7.5 percent," the PM added.
At the end of November 26 session, Latvian delegates held informal business meetings with the Georgian community, swapped business cards and exchanged ideas with the hope that follow-up meetings for future business agreements would extend on from this event.
(Agenda.ge)