Russia-Abkhazian treaty to be discussed by international organizations
By Ana Robakidze
Monday, December 1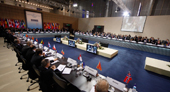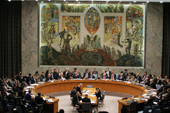 The Georgia government plans to work hard and make Georgia-Russian relations a top issue during the upcoming meetings of various international organizations. The Ministry of Foreign Affairs confirmed that it is going to use its international levers against the Russia-Abkhazian treaty on Alliance and Strategic Partnership, which was signed on November 24.
The treaty was one of the major topics that Georgian First Deputy Foreign Minister David Dondua discussed during his address to the OSCE Permanent Council meeting on November 27. In his speech, Dundua called on the international community to consider the possible threats to Georgia and the region that would result from the signing of this treaty and to condemn Russia's unlawful actions in Georgia's breakaway region of Abkhazia.
"The actions of the Russian Federation represent a further step taken towards the open and illegal annexation of Georgia's occupied region of Abkhazia and run counter to the principles of international law," Dondua said. He focused on the negative impact that Russia has made recently in Georgia's occupied territories, and reminded the OSCE about the unfavorable consequences the current situation in Georgia can cause within the European security.
The Russia-Abkhazian treaty will be one of the major topics discussed at the OSCE Ministerial Council on December 4-5 in Basel, Switzerland.
According to Georgia's Foreign Minister Tamar Beruchashvili, Georgia has already sent a message to the UN requesting that a UN Security Council meeting be held concerning the treaty.
"The consultations on holding a UN Security Council meeting have already been launched among permanent and non-permanent members of the Council," Beruchashvili told the media.
The MFA press center released information stating that Georgian representatives will raise the issue at a NATO meeting scheduled to take place in Brussels on the 2nd of December and at the 30th round of the Geneva International Discussions, planned to take place on December 9-10.