TBC Bank Named Bank of the Year in Georgia 2014 by The Banker
Monday, December 1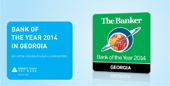 The Banker magazine named TBC Bank Bank of the Year in Georgia 2014 during an Annual Awards ceremony in London on November 27. This is the seventh time TBC Bank has been awarded The Banker's prize since 2002 and the fourth Best Bank award assigned to TBC by various publications throughout 2014.
Every year The Banker, the London-based monthly financial publication owned by the Financial Times Group, recognises the top financial institutions in 149 different countries based on their performance during the previous year.
"We are honoured to be recognised as Bank of the Year in Georgia by a highly regarded publication like The Banker," commented Vakhtang Butskhrikidze, TBC Bank's Chief Executive Officer. "This award honours our continued focus on excellence in financial services and commitment to the highest industry standards."