Georgia-Turkmenistan to deepen economic ties
Monday, December 1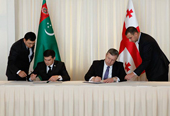 A governmental delegation from Turkmenistan is in Georgia to discuss economic ties and bilateral cooperation in regards to the new Silk Road – a series of trade and cultural transmission routes through regions of the Asian continent that connect the East and the West.
The Turkmenistan governmental delegation, led by Economic and Development Minister Vepa Abdilkhemikov, are here to attend the inaugural Inter-governmental Economic Commission.
Georgia's Minister of Economy and Sustainable Development Giorgi Kvirikashvili believed Georgia and Turkmenistan had great prospects to boost ties in trade, investment and transport and logistics.
Meanwhile, five years has passed since the two countries enjoyed close economic relations. Today's meeting was the first Inter-governmental Economic Commission where officials signed a document that noted the next meeting will be hosted in the Turkmenistan capital Ashgabat in 2015.
"Turkmenistan businessmen will have the opportunity to invest in Georgia's business sectors and they have already expressed interest of cooperation in tourism. Turkmenistan has great experience in the textile industry and establishing technological parks," Kvirikashvili said after the meeting.
He also said it was expected Afghanistan would soon be involved in the TRACECA transport cooperation, therefore it was important to increase transit cooperation in this direction. TRACECA is an international transport cooperation program between the EU and its partner countries in Eastern Europe, South Caucasus and Central Asia.
(Agenda.ge)