Prospects for Georgia-Russia Relationship
By Messenger Staff
Monday, December 1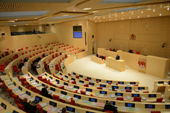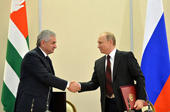 The parliamentary majority rejected the United National Movement-initiated draft resolution recommending the termination of all existing formats of Georgia-Russian talks. The draft was meant to be sort of a reply to the recently signed treaty on Alliance and Strategic Partnership between Russia and Georgia's breakaway region of Abkhazia. Instead, the GD majority adopted its own version of the resolution, which condemns Russia's unlawful actions, although the wording was a bit different from the UNM initiated draft.
In reality, the UNM initiated the draft resolution with the recommendation to halt all contact with Russia even before Russian President Vladimir Putin and de-facto Abkhazian leader Raul Khajimba had signed the treaty.
Various parliamentary entities negotiated the final text of the resolution. However, they could not agree on a single consolidated version of the resolution.
The Georgian Dream did not support the UNM initiative, though it agreed with the opposition party that the Russian-Abkhazian treaty is yet another step taken to annex Georgian territory.
In its draft, the UNM demanded that the Georgian government immediately request that the UN Security Council convene over the matter. Also, the draft called on the Georgian government to activate its efforts in the international courts to file a legal suit against Russia. In addition, it demanded to use whatever levers available to create problems for Moscow in all international institutions, including the WTO.
Finally, the UNM demanded that the coalition create a complex anti-annexation strategy, which would act as a roadmap for Georgia to navigate towards the de-occupation of its territories.
However, all the parliamentary factions are unanimous in that Russia's recent steps are targeted against Georgia's efforts to become part of the Euro-Atlantic family.
Since it took office, the Georgian government has treated Russia-Georgian relations cautiously. Whereas previous leadership was using an aggressive rhetoric and general attitude towards Moscow. The current government has tried to use a common sense approach. Unlike the UNM, the GD considers using diplomatic channels. In order to maintain and open diplomatic channel, Tbilisi did not join Western sanctions imposed on Russia.