Prosecutor's Office to launch project that tackles domestic abuse
By Ana Robakidze
Tuesday, December 2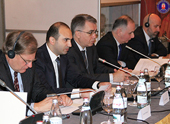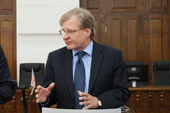 The Prosecutor's Office presented the results of its work carried out to study domestic violence in Georgia at a special conference held on December 1 in Tbilisi. During the week-long conference, Prosecutor's Office representatives were working in Georgia's regions to reveal cases of domestic abuse and elaborated effective methods to fight it.
The conference was opened by the Chief Prosecutor of Georgia Giorgi Badashvili who welcomed the representatives of the state agencies, NGOs, and the private sector who had gathered in Tbilisi's Marriot Hotel to fight domestic abuse. Badashvili said his office is ready to cooperate with everyone who is willing prevent violence. The chief prosecutor expressed special gratitude to the US Ambassador to Georgia Richard Norland, who appears to be actively involved in the campaign against domestic violence.
Domestic abuse has become a serious challenge for Georgian society. In order to respond to the increased public demand, the Prosecutor's Office started a new project. The office representatives have been working in two directions: focusing on making the work of law enforcement authorities more effective, and expanding preventive measures and raising public awareness. According to the office, around 3,000 cases of violence were studied.
According to the official information an absolute majority of the cases take place in Tbilisi from 18.00 pm to 12:00 pm, and mostly unemployed citizens are the abusers in families.
"It is vital to change the mentality and attitude in society in order to overcome family violence," U.S. Ambassador to Georgia, Richard Norland said during in his address to the conference participants. He welcomed the increased attention to the problem and said that the Ministry of Internal Affairs has to play a key role in fighting domestic violence.