James Apaturai in Tbilisi
By Ana Robakidze
Friday, December 5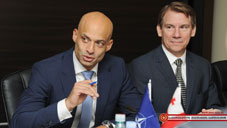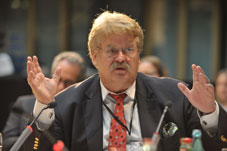 While Georgia strives to prove its progress in the implementation of the NATO package and Association Agreement it has signed with the European Union, some high officials still have concerns, whether the country makes it to Euro-Atlantic family membership or not.
Chairman of the Committee on Foreign Affairs of the European Parliament Elmar Brok says it is not the right time now, to discuss Ukraine, Moldova, Georgia NATO membership. According to the EU Foreign Relations Committee, Brok believes NATO should be focusing on increasing its collective defense capacity, rather than increasing the number of its members.
The NATO Secretary General's Special Representative for the South Caucasus and Central Asia James Appathurai, who is paying an official visit to Tbilisi, says Brok's statement does not contradict the reality and it should not be misunderstood, as currently there are no plans on granting alliance membership to Georgia.
According to Apaturai everything is clear about Georgia's position. It is clear that the country wants to join the alliance, and it will, as it was decided at the Bucharest summit, NATO official said in Tbilisi.
"You will see a lot more NATO in Georgia, we see a lot more Georgia in NATO every year…. Let me focus on the professionalism of the ministry. I am happy to continue cooperation with the new team at the highest level. We are planning consultations in security,'' Appathurai said after his meeting with the Georgian Defense Minister Mindia Janelidze.
According to the ministry, details and procedures related to implementation of the Substantial Package granted to Georgia at the NATO Wales Summit was the key topic of the meeting.
The minister expressed hope that NATO will help Georgia carry out the directions set out in the substantial package.
According to Appathurai, the Ministry of Defense has been very efficient and its activities are targeted in the right direction.
"We have from the recent NATO Summit a blueprint of implementing the package which will help Georgia move closer to NATO membership. The ministry is focused very much on implementation. NATO is already participating very actively and we are already identifying the people who will be coming in here, defining where the joint training center will be," Apaturai said after the meeting.
In the framework of his visit, the NATO official met State Minister for European and Euro-Atlantic Integration Davit Bakradze and Chairman of the Georgian Parliament Davit Usupashvili.
The Parliament Speaker briefed Apaturai on the problems in Georgia's breakaway regions and discussed the progress of the country's democratic reforms.
Before leaving Tbilisi, the Apaturai will meet Prime Minister Irakli Gharibashvili and parliamentary majority and minority members.