Khudonhes power plant might be built by the state
Tuesday, December 9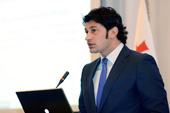 The Khudonhes power plant might be built by the state instead of a private company, Energy Minister Kakha Kaladze said at the meeting with students at the hotel Radisson.
"We are well aware of the importance of the Khudonhes project for our country. At the present time we are negotiating with the Indian company Trans Electric. We demanded completely transparent process from them. This company was registered in the offshore, while we believe that everything must be open, because our population's interest is too high in relation to this project and nothing must be covered. We asked them to present information about the founders are and we also asked them to show us their ability to implement this project", said the Minister.
According to him, it was very bad that under the previous government some companies were given land for 1 GEL without asking anything to people.
"We asked this company to give back land to local population. At this moment we are in the negotiation process and later we will make a decision regarding the construction. I will not hide, we have also considered the possibility of building the power plant by the state, given the strategic importance of the project. This issue is being discussed in the government and in the near future everything will become clear," said Kaladze.
(IPN)