Energy Minister: Low Mtkvari River level is not dangerous
Tuesday, December 9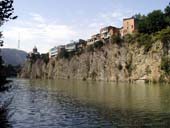 Georgia's Energy Minister Kakha Kaladze says the lower than normal water level in the Mtkvari River is not dangerous.
Kaladze said the diminished Mtkvari flow was "regulatable" and the issue was agreed between the Georgian and Turkish governments.
Water levels have fallen drastically in the past few days in Mtkvari, the biggest river in the South Caucasus. The Mtkvari originates in Turkey, runs eastward across Georgia and Azerbaijan, emptying into the Caspian Sea.
In the past few days, water level has dropped in the Aspindza region, close to the Georgia-Turkey border.
The Turkish Ministry of Forestry and Water Resources said the reduced level of the Mtkvari was caused by the filling of a dam a few tens of kilometers from the border with Georgia. The dam was being filled up in preparation for winter.
Georgia's Environment Ministry issued a statement earlier this week, claiming the Turkish side had apologized as it did not notify the Georgian side about the expected lowering of the water level in the Mtkvari River.
The Turkish Government said the private company in charge of the dam did not give the Turkish government prior warning about the reduced water level.
The two countries have now decided to sign a memorandum that will make sure this kind of instance does not happen again.
The Turkish government said the Mtkvari river level would return to its normal state by the later part of December.
Meanwhile, the Environment Ministry said the Mtkvari River gets much more of its water in Georgia than in Turkey so a temporary reduction in normal water levels was not likely to involve serious risks.
The Mtkvari runs from Turkey to Azerbaijan, emptying into the Caspian Sea. It also passes through Armenia, Georgia and Iran. Its surface area is 188,000 square kilometers and 400km of the 1,515km long river runs through Georgia. The longest section is in Azerbaijan – 906km. Several power stations are constructed on the river.
(Agenda.ge)