More speculation over Putin-Margvelashvili meeting
By Messenger Staff
Tuesday, December 9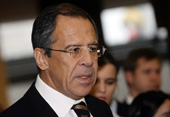 During the OSCE 21st Ministerial that took place December 4-5 in Switzerland, Russia's Foreign Minister Sergey Lavrov spoke about a possible meeting between the Georgian and Russian presidents, and stated that such a meeting could take place. The statement was followed by comments among politicians and analysts in Georgia.
Months ago, Russia's President, while answering a journalist's question, mentioned that he did not exclude the possibility that he would have a meeting with his Georgian counterpart.
However, the Georgian government was more focused on the fact that President Giorgi Margevalshvili was no longer a leading politician in Georgia owing to the current constitution, and that the Prime Minister should have been participating in this meeting if it would take place.
It should be stressed that the Russian side always speaks about the meeting of the two countries' presidents and never mentions the Prime Minister of Georgia.
Parliament's Foreign Committee Head Tedo Japaridze was the first who responded to Lavrov's statement. He admitted that there is "no adequate situation" for such a meeting currently.
"Any high-level meeting should be have certain outcomes. I believe that such a meeting now will not be fruitful," Japaridze said.
Compared to earlier period, the current situation between the two countries is actually more complicated. Russia has already signed a controversial treaty with the de-facto Abkhazia that has been assessed in Georgia as an attempt to annex the Georgian region. Meanwhile, Russia is going to soon sign the same treaty with South Ossetia.
Some politicians took the Lavrov's statement as a step forward, while others, like Petre Mamradze, think that Larov was not serious and he was just providing a diplomatic response to a journalist's question.
Georgia's Special Envoy to Russia Zurab Abashidze also suggests that there is no preparation for such a meeting.
There are several topics the presidents might discuss if they really meet. A key problem for Georgia is territorial integrity and the de-occupation of its territory, but this demand is ignored by Moscow. Russia is more interested in Georgia moving away from its Euro-Atlantic integration. The Kremlin is also interested in re-opening of the Abkhaz railway that will connect Russia to Armenia and strengthen its positions in the South Caucasus. However, there is a question on how the Russian intentions meet Georgia's interests.