Steinmeier: Georgia is in a difficult situation
By Ana Robakidze
Wednesday, December 10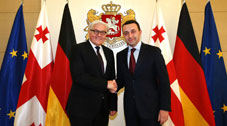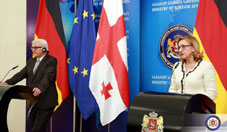 Georgians will soon be able to travel visa-free to the European Union, German Foreign Minister Frank-Walter Steinmeier stated at the meeting with Georgian Prime Minister Irakli Gharibashvili.
"Very little time is left until visa-free travel between Georgia and the EU begins, and we are convinced that it will encourage economic development in a new way," Steinmeier, who is paying his second official visit to Georgia said on December 9.
He also shared his initiative with the PM regarding establishing a Georgian-German business forum to provide additional support to the strengthening of business contacts between Georgia and Germany and boost additional investments as well.
Speaking at the joint press conference held after the meeting with his Georgian counterpart Tamar Beruchashvili, Steinmeier said the Association Agreement signed between Georgia and the EU is a document directed towards the modernization and reformation of Georgia and there is a lot work to be done in order for Georgia to experience the full benefits of the agreement.
"This process is irreversible. Georgia has taken its obligations, which should be implemented now," Steinmaier said. He also spoke about Germany's official attitude to Georgia's future within NATO and said it is wrong to believe his country keeps a conservative approach to this matter.
Steinmaier said that the German government unconditionally supports the decision made at the Bucharest Summit which states that Georgia will become a NATO member.
"Germany was the initiator of the Substantial Package NATO proposed for Georgia. I think everything goes logically from the political point of view, I do not feel that this is a conservative process," he said.
Speaking about the conflict regions of Georgia, Stainmaier said Germany of course is not going to recognize the treaty on alliance and strategic partnership signed between Russia and the break-away region of Abkhazia. He also mentioned that not only Georgia, but all of Europe has appeared in a difficult situation recently.
While visiting Tbilisi, the German Foreign Minister also discussed the details related to the future visit of German Chancellor Angela Merkel to Georgia, which is scheduled to take place in the spring of 2015.