Farewell Ceremony of Peacekeeping Company to EUFOR RCA
Thursday, December 11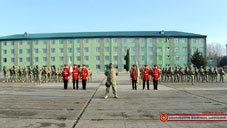 A farewell ceremony of the combined Company of the 23rd Battalion was held at the drill ground of Vaziani 4th Mechanized Brigade.
The solemn ceremony started with the Georgian National Anthem performed by the Defence Ministry of Georgia's military band. The personnel of the combined Company of the 23rd battalion of the 2nd Infantry Brigade held a minute of silence in the memory of Georgian soldiers fallen for Georgian territorial integrity and in international missions.
The Defence Minister of Georgia Mindia Janelidze attended the event. The Defence Minister addressed the soldiers and wished them success in the accomplishment of the mission and a peaceful return.
"This mission helps us get closer to the European countries and the EU. Alongside the troops of our European partners, Georgian soldiers protect peace and stability in the Central African Republic, which is another confirmation of our contribution to global security. The legislative mandate of this mission lasts until the end of this year. Georgian authorities decided to extend the mandate for the next six month," declared Mindia Janelidze.
Deputy Defence Ministers and high-level officials of the General Staff also attended the ceremony. The Ambassador of France, his Excellency Renaud Salins, Head of the European Union Delegation to Georgia, Ambassador Janos Herman and Defence Attaches of EU countries also attended the farewell ceremony.
At the end of the ceremony, Chaplain of the Second Infantry Brigade, Farther Ioseb blessed the soldiers.
The Georgian troops will perform a peacekeeping mission in the city of Bangui during the next four months. They will be responsible for insuring security and stabilization of the situation. The Georgian soldiers will be patrolling the area in the vicinity of the airport. Company of the 23rd Battalion of 2nd Infantry Brigade will replace the Batumi Light Infantry Battalion.
The combined company of the 23rd Battalion has already received experience in international operations. The military personnel of the West Operational Command were engaged in the ISAF mission two times as part of the U.S. contingent. For the EU mission, they underwent pre-deployment preparation at their Senaki Base. Preparation included exercises in patrolling, setting up check-points, protection of bases and insuring security in their area of responsibility.