Sergeantsí Graduation Ceremony
Thursday, December 11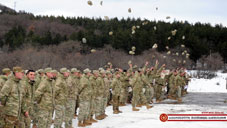 109 qualified sergeants joined the Georgian Armed Forces. Two training courses - Basic Training for Squad Commanders and Platoon Sergeant Intermediate courses have been completed in the Giorgi Antsukhelidze NCO Center. A course graduation ceremony was arranged in Kojori.
First Deputy Minister of Defence Gocha Ratiani, Chief of General Staff of GAF, Major General Vakhtang Kapanadze and top brass of the Georgian Armed Forces attended the event.
Major General Vakhtang Kapanadze congratulated the sergeants in the completion of the course and wished them success.
Chief of General Staff of the GAF and First Deputy Defence Minister also awarded the graduates with certificates. Chaplain of NCO Center, Father Giorgi blessed the sergeants. At the end of the ceremony the graduates handed over the St. Giorgi icon to the NCO Center chapel.
During the solemn ceremony, the personnel of Giorgi Antsukhelidze NCO Center received certificates of gratitude.
75 military servicemen attended the four month-long Basic Training (Squad Commander) Course. 34 servicemen underwent Platoon Sergeant (Intermediate) course that lasted 3 months. Under the training program, the sergeants underwent physical preparation, day and night navigation; studied the units commanding rules, basics of tactics, communications, First Aid, and practiced shooting. The exercises were held at the Kojori Training Base.
From now on, the sergeants will return to their units to continue military service there.