Green Action in Rustavi
Thursday, December 11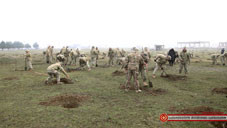 The Ministry of Defence of Georgia continues its participation in "Green Future". Defence Minister Mindia Janelidze, his deputies, the top brass of the General Staff and the platoon of 1st Artillery Brigade of the GAF were involved in the environmental action.
The campaign was dedicated to the commemoration of the Georgian soldiers from Rustavi – Vakhtang Gzirishvili, Kakhaber Tavgorashvili, Giorgi Javakhishvili, Besik Kapanadze and Levan Iosebidze, who were killed in the August War of 2008. Mindia Janelidze planted ash-trees and Japanese maples near the rugby stadium in Rustavi.
This green activity was held under the initiative of the Prime Minister of Georgia. Within the campaign, the Georgian soldiers have already planted 400 trees in the nearby territory of the 5th Infantry Brigade in Gori in April.