De-facto president of South Ossetia hopes the region joins Russian Federation
By Ana Robakidze
Friday, December 12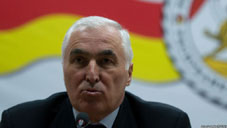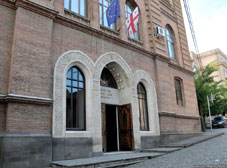 Break-away South Ossetia is going to sign the Treaty on Alliance and Strategic Partnership with Russia, the only state to recognize the region's independence.
De-facto president of the region Leonid Talibov said the parties are working actively on the draft of the treaty. Moreover, Talibov believes the region should not stop with signing the treaty, but it should join the Russian Federation directly.
"I have offered to join South Ossetia directly with Russia. We will receive the answer in the nearest future," Tibilov said in one of his recent interviews.
According to the Georgian Ministry of Foreign Affairs, it was expected that Russia would sign the treaty with South Ossetia, as it signed a similar treaty with Abkhazia about a month ago.
MFA speaker Davit Kereselidze told the media that the ministry is working hard to keep international society updated on the unlawful actions Moscow takes in Georgia's breakaway regions.
"Certainly the statements made by Talibov causes harassment and great danger," Kereselidze said, and pointed out that negotiations to attract international attention to the conflict regions is the only lever the MFA currently has.
President of Georgia Giorgi Margvelashvili released a statement as a reply to South Ossetia's de-facto president and said Talibov's statements are unacceptable. He also advised Russia to try fixing the problems with Georgia by means of direct dialogue.
U.S Congressman Adam Kinzinger believes Russia is continuing to take further steps to annex Georgian territories.
As he claims, an agreement between Russia and Georgia's breakaway enclave of Abkhazia is a step forward to annexation, and if a similar agreement is completed with Tskhinvali as well, this will amount to the annexation of the two regions.
"Georgia is passing through immensely hard times today. The easiest way out from this situation would be Georgia's decision to turn towards its northern neighbor, but this country craves freedom and longs for independence," Kizinger said in his exclusive interview with Georgia's Editorial Board of Voice of America.
He said he is a great supporter of Georgia and its aspiration to build a free and open society and to integrate with the European family.
"Russia is taking illegal actions. If a similar agreement is finalized with South Ossetia, two more regions will be seized. This will obviously jeopardize the capital of Georgia and will make it vulnerable to all threats coming from Russia. Precisely this is the reason why we must keep training Georgia's soldiers, and we must be united in our determination to impose a cost on Russia for its actions by setting additional sanctions against this country," the congressman said.
Russia signed the treaty on Alliance and Strategic partnership with Abkhazia on November 24 and immediately started to work on a similar treaty together with South Ossetia.