Khajimba demands that Enguri power station be forwarded to Abkhazians
By Ana Robakidze
Monday, December 15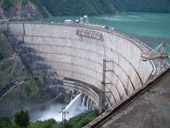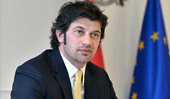 De-facto president of Georgia's break-away region Abkhazia says that Enguri hydro power station belongs to his people. Raul Khajimba raised the issue recently, stating everything that is located on Abkhazian territory belongs to Abkhazians.
He also expressed his concerns about the fairness of power distribution between Georgia and the break-away region. Khajimba said it is not quite clear whether Abkhazia receives 40 percent of the electro power produced by Enguri plants, as it was agreed with the Georgian side years ago. Khajimba acknowledges that the he will not be an easy negotiator with the Georgian side, but he is still going to push the issue.
"We should know if we have the opportunity to use this 40 percent. The president and the government must work on this issue, elaborate documentation and make decisions about the ownership of Enguri Hess," Khajimba stated.
De-facto Prosecutor General of Abkhazia, Alexi Lomaia, announced few days ago that his office had found some violations during checking documents of Abkhazia's state company "Chernomor Energy", which is responsible for receiving and distributing power from Enguri station.
The Enguri Power Station is currently under the governance of the Georgian Ministry of Energy.
The Georgian government finds suspicious Khajimba's ambitions about Enguri power station. Though there has been many years of conflict between Georgia and the region, the power station related issues have been the only topic the parties managed to peacefully negotiate. According the agreement signed between the sides in 2004, Abkhazia receives 40% of the power produced by the station.
Georgian opposition MPs from the United National Movement (UNM) believe Khajimba is trying to voice Moscow's policy and the situation in the region is becoming alarming. UNM members call on the government to take the issue seriously and make sure international partners are involved in negotiations with Abkhazia.
Khajimba plans to prepare all the documents and present it to de-facto Abkhazian parliament sometime in January 2015.