Georgia, Armenia intend to build new bridge at checkpoint
Monday, December 15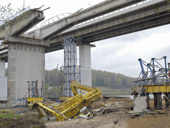 Prime Minister of Georgia Irakli Garibashvili met his Armenian counterpart Hovik Abrahamyan, the press service of the head of Georgian government told Trend.
The sides initialed an intergovernmental agreement for the construction of a new bridge on the Debeda River at the Sadakhlo - Bagratasheni checkpoint, the press service said.
It is reported that a protocol, which provides for the signing of the agreement till late 2014, has been formalized.
After the meeting, which took place in the administration of the Georgian government, the Armenian delegation went to Tbilisi International Airport, according to the press service.
It is reported that the colleague was accompanied by the prime minister of Georgia.
(Trend.az)