Growing demand enables opening of new border checkpoints with Georgia
Monday, December 15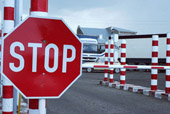 The opening of new border checkpoints on the Georgia-Azerbaijan border proceeds from the growing demand, Azerbaijani Deputy Foreign Minister Khalaf Khalafov told reporters Dec. 12.
Khalafov said that the relations between the two countries are at a high level both politically and economically.
"The relations are expanded and strengthened," he said.
"The economic, social and humanitarian relations allow creating new conditions in the border areas," Khalafov said.
Ten new border sectors, namely, two on the border with Azerbaijan and Turkey, and three - with Armenia and Russia, were built and commissioned in the country in 2014, Georgian Prime Minister Irakli Garibashvili said earlier.
Georgia also began constructing five border sectors on the border with Azerbaijan.
"Georgia and Azerbaijan will begin constructing five border sectors as part of the EU Eastern Partnership program," Garibashvili said. "The border infrastructure will also be reconstructed on the border with Turkey. The Georgian government makes every effort to provide the border infrastructure with necessary facilities."
(Trend.az)