$108m loan approved to improve water supply, sanitation in Georgia
Monday, December 15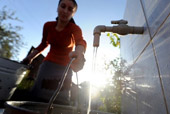 Multilateral finance institution, the Asian Development Bank (ADB), has approved a $108 million USD loan to allow Georgia to finance major improvements of the water supply and sewage systems in western Georgian towns, benefiting about 350,000 people.
This loan was the fourth tranche in a $500 million funding pool designated to upgrade the water supply system in Zugdidi, where it is believed 84 percent of the population have no access to piped water.
The latest round of funds will also go towards establishing a comprehensive sewage collection and treatment facility in Poti, which will serve the entire town, as well as other projects in other secondary towns in Georgia under the Urban Services Improvement Investment Program (USIIP).
"Providing reliable, quality water and sanitation services to meet growing demands and to prevent health and environmental problems, is a high priority of the government [and] USIIP supports the Government of Georgia's long-term sector development plan to invest around USD $1.6 billion to deliver safe water and sanitation services to all urban residents by 2020," said Kathie Julian, country director in ADB's Georgia resident mission.
The first component of the project will support infrastructure investments to rehabilitate, improve, and expand water supply system facilities in Zugdidi and a sewage system in Poti.
When complete, approximately 20,600 households in Zugdidi and 13,250 households in Poti will benefit from the remedial work.
On a greater scale, the USIIP will focus on improving water supply system services in priority towns of Anaklia, Kutaisi, Marneuli, Mestia, Poti, Zugdidi, and Ureki. Work in these areas is expected to benefit about 335,000 persons.
Water supplies in Poti were upgraded during earlier stages of the program. ADB has previously approved three tranches of the program totaling $218 million.
ADB said the funds would also support the implementation of a public awareness program including information on hygiene and sanitation through service centres of the United Water Supply Company of Georgia LLC.
(Agenda.ge)